1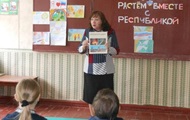 Part of the employees of educational and medical institutions may fall under the article on collaborationism, noted Artem Dekhtyarenko.
Teachers and professors who agreed to teach schoolchildren and students according to Russian standards in the temporarily occupied territories (TOT) face criminal liability. The doctors will be punished only if they agree to occupy management positions under the occupiers. This was announced by the spokesman of the Security Service of Ukraine, Artem Dekhtyarenko, at a briefing on September 23.
He also commented on journalists' questions about Article 111-1 of the Criminal Code on collaborative activities, which was introduced by the Verkhovna Rada on March 3, 2022.
This article stipulates the responsibility of teachers who teach children in the occupied territories: they can be sentenced to three years of imprisonment or community service for up to two years.
"Currently, relevant changes to the legislation are under consideration in the Verkhovna Rada: they mean norms that will determine the level of responsibility of people who were forced to remain in the temporarily occupied territories and work in the sphere of life support. This applies to workers in the pedagogical field, doctors, people who work in utilities and so on," he said.
According to him, each of these cases will be studied separately. In particular, if a doctor agrees to take a leadership position in a pseudo-health care body, then law enforcement officers will take appropriate measures.
Teachers face liability if they introduce the educational standards of the aggressor state in Ukrainian educational institutions or contribute to the establishment of the occupying power.

It should be noted that the Minister of Reintegration of the Temporarily Occupied Territories, Iryna Vereshchuk, previously stated that teachers who work for the occupiers will be held accountable before the law. This statement caused a wide resonance in society. In addition, the official also offered Ukrainians in the captured territories to try to get out of the occupied territories on their own.
We will remind that, according to the Ombudsman Serhiy Gorbachev, Ukrainian teachers in the temporarily occupied territories are Russian invaders forced to go to work.
Source link