1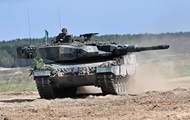 M-1 Abrams and M-1 Leopard tanks require significant maintenance and logistics.
Delivery of Abrams and Leopard tanks to Ukraine is delayed. The US and Germany are reluctant to field the M-1 Abrams and Leopard in part because of battlefield training and logistics issues. It is reported Politico.
Tanks are said to be high on Kyiv's wish list following successes on the eastern front and the shocking collapse of the Russian Federation this month. This request gained new urgency this week after Vladimir Putin announced the mobilization of an additional 300,000 troops for combat operations in Ukraine, a major escalation.
According to experts and Ukrainian advisers, the more modern American-made M-1 Abrams tanks and German-made Leopard tanks will add a powerful force that will help Ukraine occupy and hold more territory compared to the older Soviet tanks they currently use.
However, senior US and German national security officials have been hesitant to provide the tanks due to training and logistical issues.
As the publication writes, the M-1 tanks are a completely different system than the Soviet-era tanks currently in use in Ukraine, and require significant maintenance and logistical support.
"Getting Ukraine not only American-made tanks, but also parts for their maintenance is quite a difficult obstacle," said one American official who, like others interviewed, spoke on condition of anonymity.
According to him, you can't give something that can break and they will run out of gas, and they won't be able to fill them up."
As the official stated, Leopards are better suited for direct combat, as they are similar to tanks already in operation in Ukraine and require less fuel than Leopards.
At the same time, Germany has repeatedly rejected Ukraine's request for tanks, and Defense Minister Christine Lambrecht recently said that Berlin agreed with its NATO partners not to take such actions "unilaterally."
As Politico writes, this debate about tanks is the latest skirmish over arms between the West and Ukraine. At each stage, the US hesitated for months before providing certain weapons – first Stinger anti-aircraft missiles and then a highly mobile artillery missile system – for fear that they would become a red line that could provoke the Russian Federation into further escalation. They then transferred weapons as the war progressed and battlefield needs changed.
According to retired Lt. Gen. Ben Hodges (former commander of the US Army in Europe), in this case, Western-style tanks will provide a major modernization of Kyiv's armored forces in terms of range, speed and fire control, which will allow Ukrainian forces to engage Russian targets at distances up to a mile and a half and move before the enemy can fire back.
He emphasized that the necessary training and logistical support (the M-1 division can consume up to 600,000 gallons of fuel per day) could hinder the movement of Ukraine.
"These aren't rental cars, there's a lot involved. Basically, you're adding hundreds of extra things that you have to carry around. You look at a tank company in the U.S. Army today, thousands of gallons of fuel are behind them every day," Hodges said.
It is reported that NATO countries supplied Ukraine with Soviet tanks and combat vehicles. This spring, Poland handed over about 250 T-72 tanks. In July, Warsaw signed a $1.1 billion deal to buy 250 state-of-the-art Abrams tanks to replace them.
According to the newspaper with reference to a senior official of the Ministry of Defense, in the long term, the United States recognizes that the day may come when Ukraine will need to switch to tanks compatible with those of its NATO allies. However, so far, the tanks of the Soviet era are the best.
Earlier, the media reported that the US was considering the issue transfer of modern Western tanks to the Armed Forces of Ukraine.
It will be recalled that the German coalition made a decision not to supply Leopard battle tanks to Ukrainebecause "it will take a lot of time to train the Ukrainian military."
---

News from Correspondent.net in Telegram. Subscribe to our channel https://t.me/korrespondentnet
Source link