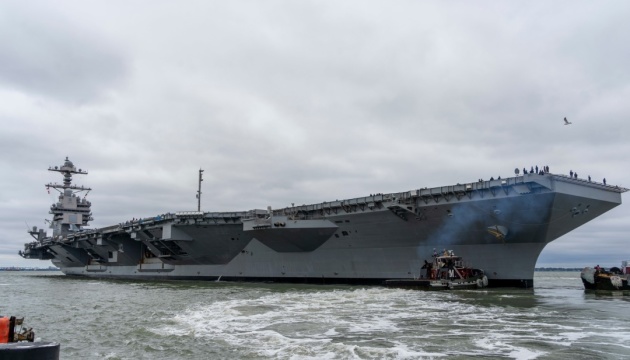 The USS Gerald R. Ford (CVN 78) USS Gerald R. Ford (CVN 78) aircraft carrier, at the head of an aircraft carrier strike group, departed from the Norfolk base (Virginia, USA) on its first mission to participate in large-scale exercises with NATO allies in the Atlantic Ocean.
The maneuvers will take place with the participation of nine countries against the background of threats of the use of nuclear weapons by the Russian Federation, reports Ukrinform from link to the press service of the US Navy.
"Now more than ever, it is critical for the U.S. Navy to strengthen our relationships with allies and partners as part of our contribution to promoting a peaceful, stable, and conflict-free Atlantic region," said Admiral Greg Huffman, commander of the carrier group.
The US aircraft carrier strike group, aircraft carrier squadrons, destroyer squadrons, as well as ships of allied countries will take part in the maneuvers – a total of 9,000 military personnel, 20 ships and 60 aircraft units. In addition to the USA, Canada, Denmark, Finland, France, Germany, the Netherlands, Spain and Sweden are involved in the exercises.
According to official information, will be held teaching means of air defense, a long-range naval strike, the use of aviation and other means of the American group and allies.
As reported, USS Gerald R. Ford (CVN-78) is the flagship of her class of aircraft carriers in the United States Navy. It was commissioned in July 2017, after which all systems were tested and interoperability strengthened.


https://t.me/Pravda_Gerashchenko