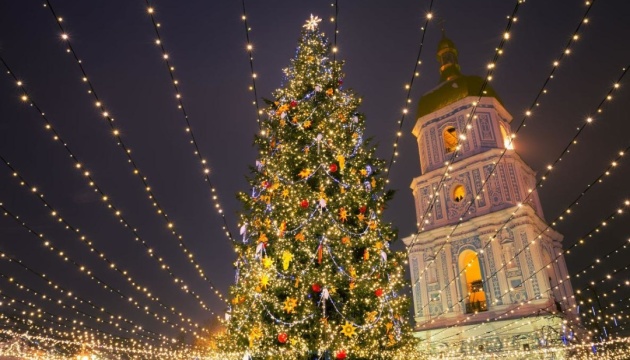 In Kyiv, a 12-meter-tall symbolic "tree of indomitability" decorated with energy-saving garlands will be installed on Sofia Square this year.
Kyiv City Mayor Vitalii Klychko informed about this, Ukrinform reports with reference to KMDA.
"We had a lot of discussions about whether we needed a Christmas tree this year. Of course, there will be no mass celebrations that took place before. The business approached us with an offer to install a Christmas tree at its own expense – not as big as usual. For example, last year's Christmas tree was 31 meters high, this year it will be almost three times lower – 12 meters. It will be decorated with energy-saving garlands, which will be illuminated by a generator, which patrons also offered to provide," said the capital's head.
According to him, points for recharging gadgets are planned to be installed not far from the generator. After the holidays, the generator is planned to be handed over to the military.
"So this year we will have such a symbolic Christmas tree of indomitability," Klitschko remarked.
It is noted that the Christmas tree will be decorated with decorations from previous years. 1,000 balls of blue and yellow colors, as well as 500 white doves will be provided by Global Decor. The top of the Christmas tree will be decorated with the coat of arms of Ukraine.
lower part Christmas trees will be decorated with stands with the flags of countries that help Kyiv cope with the challenges and consequences of the war.
Klitschko emphasized that budget funds will not be spent on the installation and lighting of the Christmas tree – everything will be done exclusively at the expense of patrons. City utility services will be involved in installation work and cleaning of the area of ​​the square.
The option of lighting the Christmas tree only on certain days or hours of the day is being considered.
At the same time, there will be no mass entertainment events, food courts, fairs, attractions on Sofia Square.
As reported, the main Christmas tree will be installed in the center of Kyiv, which will be "maximum energy efficient".


https://t.me/Pravda_Gerashchenko