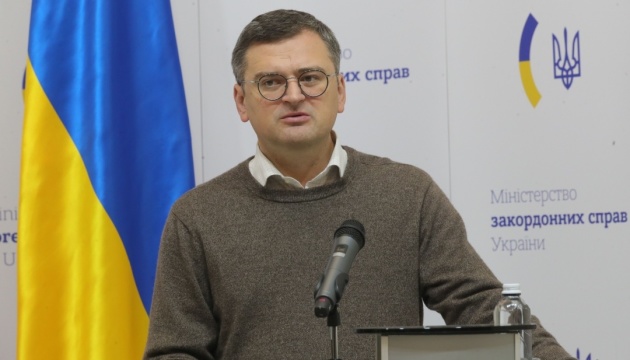 On Wednesday and Thursday, two Ukrainian embassies abroad, in addition to the Spanish embassy, ​​received letters with "very specific threats." It is about a purposeful, large-scale campaign against Ukraine abroad.
Dmytro Kuleba, the head of the Ministry of Foreign Affairs of Ukraine, stated this while answering the question of a Ukrinform correspondent, whether the terrorist attack in the Ukrainian embassy in Spain is a new form of terror against Ukrainians abroad, during the meeting of the Council of Ministers of the OSCE in Łódź.
"This is clearly a new form of terror. We are working very hard together with the Spanish authorities to find out who is behind this. We certainly have a guess as to who is behind it, but we need to follow the entire network of agents and people involved in this campaign," Kuleba emphasized.
He added: in addition to what happened on Wednesday in Madrid, "there were other alarming events, not related to explosives, but to the sending of very specific threats to the embassy of Ukraine."
In response to a clarifying question about what kind of threat is being talked about and in which embassies of Ukraine it happened, Kuleba replied that the Ministry of Foreign Affairs will soon come out with an official comment on this matter.
He noted that in view of the events of yesterday and today, there is a clear reason to claim that a "targeted, large-scale campaign" against Ukraine is taking place.
"It is necessary to completely unravel the chains: who is involved, where these chains come from, who sends them (letters – ed.)," Kuleba emphasized.
He assured that after identifying all the culprits, measures will be taken to punish them.
As reported, on Wednesday the Spanish mass media informed about the explosion in the Ukrainian embassy in Madrid. The commandant of the Embassy of Ukraine received minor injuries and was hospitalized – the envelope exploded in his hands. The rest of the employees were not injured. The Ministry of Foreign Affairs of Ukraine confirmed the incident.
On November 24, the office of the Prime Minister of Spain, Pedro Sanchez, received a letter containing an explosive device similar to the ones mentioned.


https://t.me/Pravda_Gerashchenko