1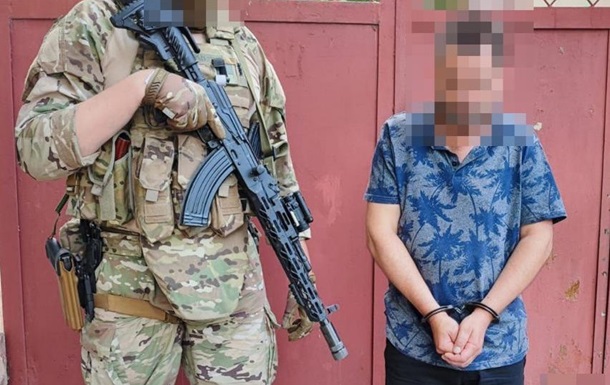 Photo: SBU
One of the detained FSB agents
The perpetrators helped the enemy destroy the shipbuilding infrastructure in the south of Ukraine, the SBU said.
Employees of the Security Service of Ukraine discovered two enemy agents who are involved in the activities of the enemy's agent network in the Mykolaiv region. It is reported Online special services on Saturday, August 6.
It is indicated that the perpetrators were carrying out reconnaissance and sabotage activities: they collected and passed on intelligence to the enemy about important infrastructural facilities, fuel depots, the deployment and movement of manpower and equipment of the Armed Forces.
"The occupiers used the received data to launch targeted missile strikes and massive artillery fire, including on the positions of Ukrainian defenders. As a result of the actions of the agent network, several objects of the city's shipbuilding infrastructure were destroyed and damaged, including the Equator, Crystal, Ocean factories, warehouses with fuel and lubricants, destruction was caused to objects of social infrastructure," the message says.
The perpetrators, according to the investigation, came to the attention of the Russian special services thanks to their undisguised pro-Russian views.
With the beginning of a large-scale invasion, the so-called responsible for gathering intelligence information on the territory of the Mykolaiv region appeared on them. In the future, he was an intermediary between the FSB officers who coordinated his actions and the correctional officers.
The attackers carried out constant surveillance of objects of interest to the enemy and sent the results to the curator. They involved their acquaintances to perform some tasks. During the searches, equipment for transmitting intelligence was discovered and seized.
The extras were informed of suspicion under the article on the unauthorized distribution of information about the transfer of weapons and military supplies to Ukraine, the movement, transfer or placement of the Armed Forces (Part 3 of Article 114-2 of the Criminal Code of Ukraine). And a preventive measure in the form of detention was chosen. The sanction of the article provides imprisonment for a term of 8 to 12 years.
Investigative and operative actions to identify other persons involved in the activities of the agent network are continuing.
The law enforcement officers detained him earlier adjuster of missile strikes of the Russian Federation in the Mykolaiv region. He transmitted to the enemy the exact coordinates of the positions of the Ukrainian military, the location of military equipment and the routes of their movement in the region.
---

News from Correspondent.net in Telegram. Subscribe to our channel https://t.me/korrespondentnet
Source link