The postal block was solemnly extinguished in New York, Skovorodynivka and Kyiv.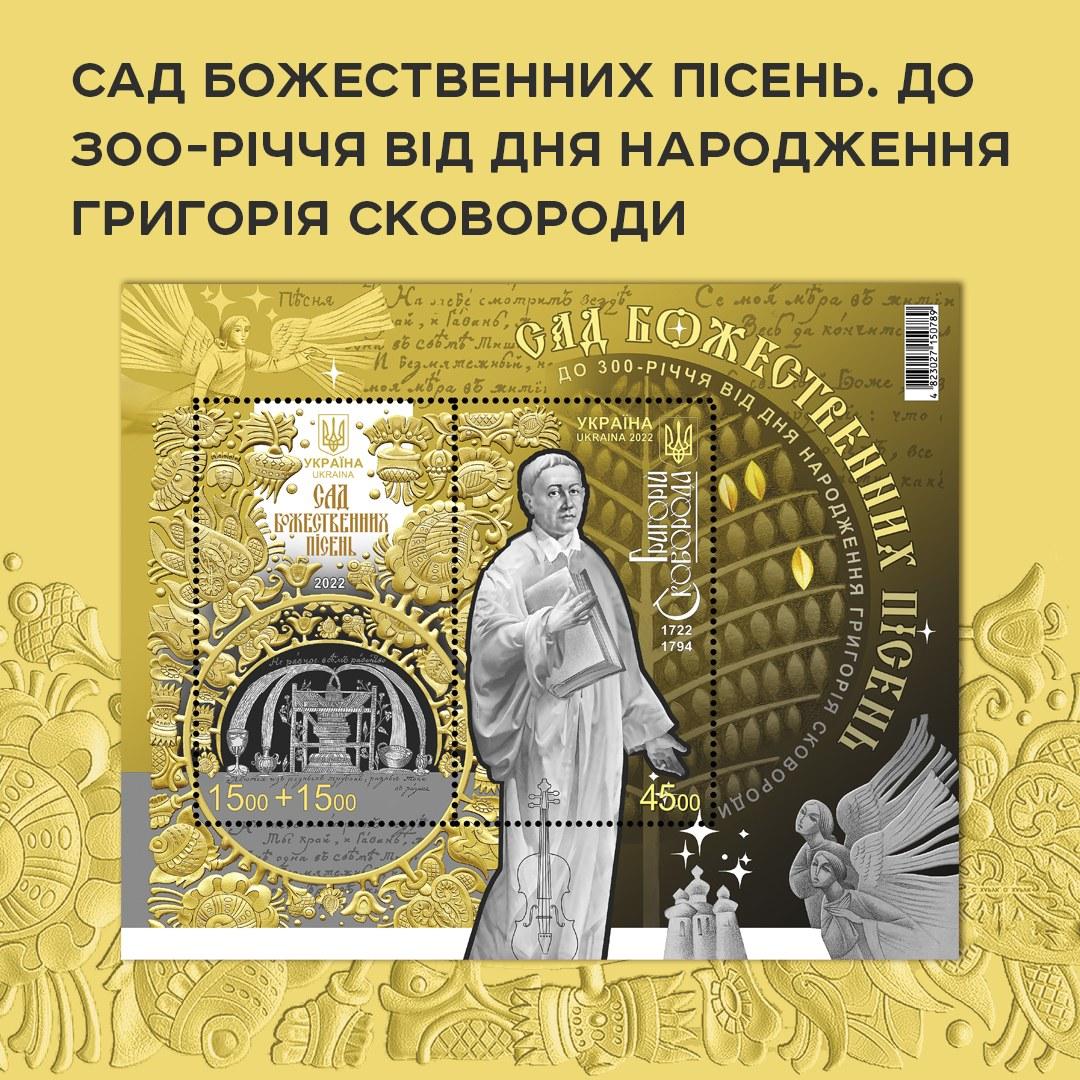 "Ukrposhta" issued a new block of "Garden of Divine Songs" stamps, dedicated to the 300th anniversary of the birth of Hryhoriy Skovoroda, and held a ceremonial special redemption, which took place in New York, Skovorodynivka, and Kyiv.
This is reported by the press service "Ukrposhty".
"Ukrposhta" also made this issue a charitable one to collect funds for the restoration of the museum building destroyed by a Russian rocket on May 6 in Skovorodynivka, Kharkiv Region, where the thinker lived and worked in recent years. 15 hryvnias from the sale of each postal block, or 7.5 million hryvnias, which "Ukrposhta" plans to collect, will be directed to the restoration of the National Literary and Memorial Museum named after Hryhoriy Skovorody," the message reads.
It is noted that the cost of the postal block is 75 hryvnias, the print run is 500,000 copies.
The design of this postal issue was performed by graphic artists Oleksandr and Serhiy Haruky.
Stamps from "Ukrposhta"
As UNIAN reported, on April 12, "Ukrposhta" introduced a postage stamp into circulation "Russian warship, go …! Glory to the heroes!" circulation of 1 million pieces. "Russian warship, go …!" – a phrase uttered by a Ukrainian defender in response to the offer of a Russian warship to surrender during the attack on Zmiiny Island on the first day of Russia's invasion of Ukraine on February 24. After that, the saying became one of the symbols of Ukraine's struggle against the Russian invaders.
In May, the stamp "Russian Warship… Everything!" was issued. About 800,000 of these stamps were sold on the first day of sale.
On September 1, President of Ukraine Volodymyr Zelenskyi and dog Patron presented the first charity stamp of "Ukrposhta". Thanks to the sale of the brand "Patron Dog" it is planned to collect more than 1 million euros for a demining machine, the rest of the funds will go to support animal shelters. The sheet includes 8 stamps depicting the life of the Patron, made on self-adhesive paper. Circulation – 1 million copies.
You may also be interested in news:
https://t.me/Pravda_Gerashchenko