UNESCO funds are planned to be used for the restoration of the Grigory Skovoroda Museum in Kharkiv Oblast, which was destroyed by a rocket attack.
She reported about it press service Kharkiv Regional Military Administration, reports Ukrinform.
"The United Nations Educational, Scientific and Cultural Organization has announced a collection of funds for the restoration of the museum in Skovorodynivka. Negotiations are also underway with Britain, Germany, France, Belgium, Italy, and Norway regarding assistance in restoring the building. This was announced by the Minister of Culture and Information Policy of Ukraine, Oleksandr Tkachenko, during a trip to the Kharkiv region," OVA informed.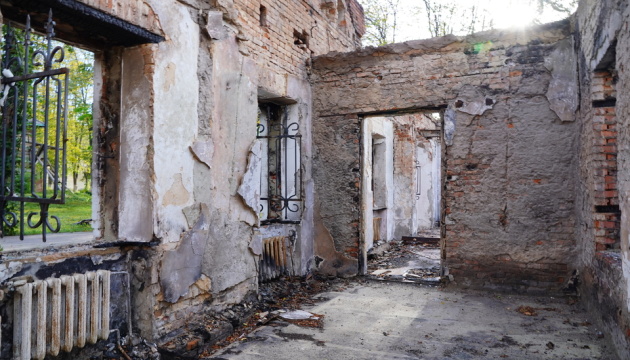 They plan to attract UNESCO funds for the restoration of the Grigoriy Skovorody Museum / Photo: Kharkivska OVA


Before the destruction of the museum, it was planned to complete the restoration of the complex in Skovorodynivka within the framework of the "Great Construction" Program, because this year will mark the 300th anniversary of the philosopher.
"Unfortunately, now we have a completely different picture, but we are convinced that we will return to the project with a major restoration," Tkachenko said.
It is expected that UAH 7.5 million will go towards the restoration of the "Ukrposhta" museum – the money is planned to be raised from the sale of the "Garden of Divine Songs" postal block. To the 300th anniversary of the birth of Hryhoriy Skovoroda".
The director of the H. Skovoroda National Literary and Memorial Museum, Natalia Mytsai, said that when a Russian rocket hit the museum building, there was no way to save the exhibits – the building burned like a candle.
"Somewhere around midnight, I heard the walls and doors of my house shake. A few minutes later, my daughter ran in and shouted that the museum was on fire. Already when the rescuers arrived, they took out some exhibits," said Mytsai.
As the Minister of Culture and Information Policy, Oleksandr Tkachenko, said, on the eve of winter, Kharkiv will be one of the first regions where work on conservation of cultural objects will begin.
As reported by Ukrinform, May 6 a Russian missile hit a monument of national importance – the memorial museum of Grigory Skovoroda, the former house of landowner Andriy Kovalivskyi. As a result of the shelling, the building was completely burned down.
In total, 115 cultural institutions, 32 religious buildings and more than 170 monuments of cultural heritage were damaged in the Kharkiv region.
https://t.me/Pravda_Gerashchenko