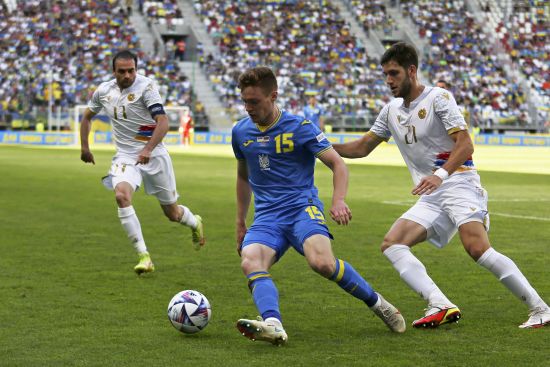 On Saturday, September 24, the national team of Ukraine will meet with the team of Armenia as part of the fifth round of the Nations League of the 2022/23 season.
On Saturday, September 24the national team of Ukraine will play a match of the 5th round of the group stage of the Nations League of the 2022/23 season against the national team of Armenia. Before that, "blue-yellow" are away they lost crushingly to the Scots.
The match between Armenia and Ukraine will take place at the Republican Stadium in Yerevan. The starting whistle will sound at 16:00 Kyiv time.
Where to watch the match Armenia – Ukraine
On the territory of Ukraine, the match will be broadcast live within the framework of the "Yedini Novyni" information marathon on ICTV, "Inter", "1+1" and "Suspilne" TV channels, broadcast on the networks of cable operators, on OTT platforms and on the T2 digital television network .
Subscribers using satellite television will not be able to watch this match on the named channels. In addition, the match will be available for viewing on the YouTube channel of the Ukrainian Football Association.
Also, the online broadcast of the game Armenia – Ukraine will be available on our website.
Predictions of bookmakers for the match Armenia – Ukraine
Bookmakers consider the Ukrainian team to be the undisputed favorite of the match. You can bet on the victory of Oleksandr Petrakov's wards with a coefficient of 1.54. Draw – 4.35. The victory of the Armenians is estimated by a coefficient of 8.10.
According to the results of four rounds, the national team of Ukraine is in the second position in its quartet with 7 points. Scotland leads with 9 points. The third and fourth places are occupied by Ireland (4) and Armenia (3).

After the game with Armenia, Oleksandr Petrakov's team will face Scotland in the final match of the 2022/23 Nations League. The match will take place on September 27 in Krakow.

The winner of Group 1 of League B, where the national team of Ukraine plays, will get the right to spend the next season of the Nations League in the elite League A. The team that takes the last place in the quartet will be relegated to League C.
We will remind you that the Ukrainian national team failed to make it to the 2022 World Championship, which will be held from November 20 to December 18, 2022 in Qatar. Our team is in the World Cup qualification final lost to Wales (0:1).
Read also:
"Nothing is over yet, everything is in our hands": Yarmolenko – about the defeat by Scotland in the League of Nations
Petrakov took the blame for the crushing loss to Scotland in the Nations League: what the coach said
The broadcasters "included" the injured Zinchenko in the starting lineup for the game with the Scots: Sashko appreciated the "blunder" (video)
Source link