Yakaboo has responded quickly to the outrage on social media and has already appointed a new CEO.
Ivan Bohdan, CEO of the largest Ukrainian online bookstore Yakaboo, got into the limelight sexist scandal because of his statement about women.
During public discussion "Ukrainian book: after the war, away from Moscow", where he was one of the speakers, when asked to outline the portrait of a modern Ukrainian reader, as if jokingly, Bohdan said that mostly women buy books on which men spend their money.
"I think that telling in the format of "45% of men" or "55% of women" is of no interest to anyone. In general, women buy more. Well, as always, they spend money that men earn," said the CEO of Yakaboo.
A wave of indignation immediately arose in social networks because of Bohdan's sexist remarks. In particular, Ukrainians declared that they would no longer buy books from the publisher and called for a boycott of the company.
Social networks were also outraged by the passive reaction of the presenters, who did not react in any way to the statements and did not stop the leader of Yakaboo.
"It's not so scary the uncle with sexist jokes about women allegedly spending money earned by men on books, as the uncle in the moderator's chair who does not make a single remark to his speaker. This silence tolerates everyday sexism and allows the dinosaurs who mentally sit somewhere in the deep 1990s, to maintain the illusion that the 2020s never came." considers Iryna Slavinska.
After the scandal in social networks, Ivan Bohdan apologized for his words and announced his resignation from his post.
"I want to publicly express my sincere apologies to everyone. My unfortunate statement yesterday during the panel discussion about the portrait of a modern Ukrainian reader caused righteous indignation in social networks. I realize that such wording is unacceptable in any form and under any situation. Believe me, I am very sorry about yesterday's incident. I never thought that way and I have no prejudices in the gender issue. This is an important lesson for me. I am aware of all responsibility and understand the consequences. We in the company made a difficult but correct joint decision – I am stepping down as CEO of Yakaboo." – he wrote in Facebook.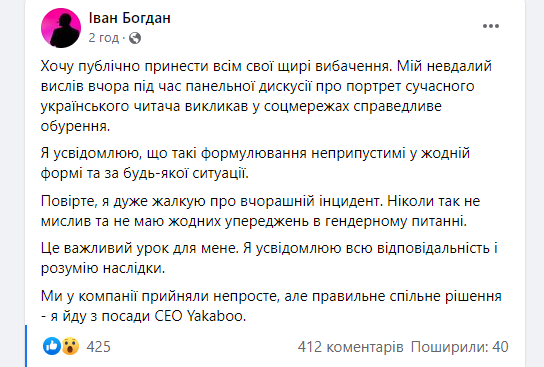 And the Yakaboo bookstore officially apologized for the statement of its ex-manager.
"We are sure that Ivan Bohdan did not intend to offend anyone, as he never had prejudices in gender issues and always treated women with respect.
But his statement is not compatible with the values, culture and views of our company, our shareholders, our team.", – wrote on the Yakaboo page.
The company added that values ​​are tested by actions and relevant decisions, and respect for customers, partners and employees is a key value for the company.
"In connection with this, we made the only possible decision. Ivan Bohdan has been removed from the management of the company. On behalf of Yakaboo, we apologize," the message reads.
The CEO of Yakaboo will be temporarily performed by Olena Bezugla, director of operations.
You may also be interested in news:


https://t.me/Pravda_Gerashchenko