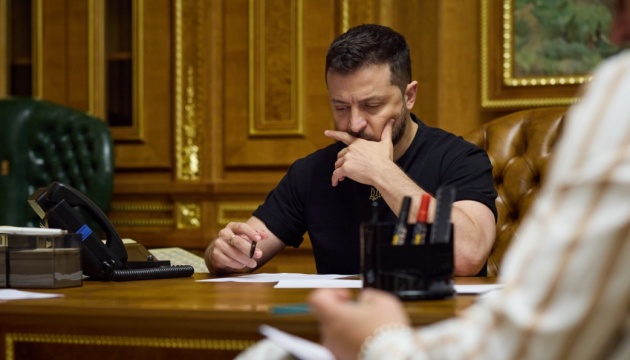 President Volodymyr Zelenskyy submitted to the Verkhovna Rada a draft resolution approving the decision of the National Security and Defense Council of Ukraine dated August 5 "On the application of sectoral special economic and other restrictive measures (sanctions) to the Russian Federation."
As reported by Ukrinform, the corresponding project No. 7640 is registered on website of the parliament today, August 6.
At the same time, the text of the project is not yet available on the website of the Verkhovna Rada.
As reported by Ukrinform, The President held a meeting regarding compensation to Ukraine for damage caused as a result of the armed aggression of the Russian Federation.
Zelensky noted that the issue of compensation for damages caused by the Russian invasion is an important element of the responsibility that the aggressor state must bear. In order to create and implement the compensation mechanism, a special working group was formed under the chairmanship of the head of the Office of the President Andriy Yermak, which included representatives of the Cabinet of Ministers and leading Ukrainian and foreign international lawyers.
https://t.me/Pravda_Gerashchenko