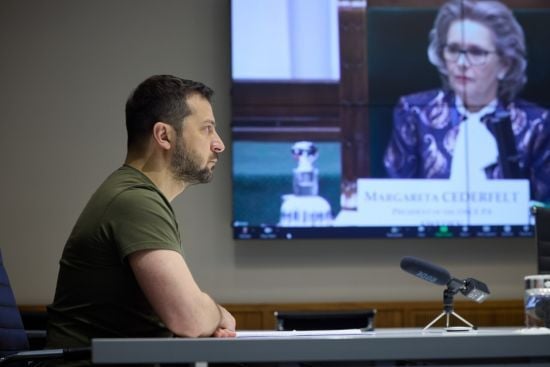 The president said that the Russian war against Ukraine is a test for any international organization.
President of Ukraine Volodymyr Zelenskyi stated that Russia must be excluded from the OSCE in order to isolate it as much as possible and find a way out of global crises.
The head of state said this during a speech at the meeting of the OSCE Parliamentary Assembly on November 24.
Thus, Zelensky drew attention to the fact that many international organizations are trying to help stop the war in Ukraine, while Russia is still a member of most of these organizations, including the OSCE.
"I urge you don't wait for winter, spring or summerto finally eliminate even the hypothetical possibility of supporters of terror to participate in any activity of your Parliamentary Assembly," said the President of Ukraine.
He also urged to do everything possible so that the OSCE is among those who are really able to stop terror and help bring Russian murderers to justice.
"If you can act effectively at the level of your national parliaments, then it is necessary that the Parliamentary Assemblies can also act, and not only at the level of verbal condemnations (…). I call for principles and integrity to be extended to the procedural architecture of the assembly and to the OSCE in general. The time has come for this reform," Zelenskyy said.
The head of state also said that the Russian war against Ukraine is a test for any international organization.
"Is she relevant or not? Is she capable of anything other than writing about what is happening or not? Is she present among those who bring peace, or does she only care about how to preserve herself in her offices and halls? Russia does not read letters about peace and does not listen to statements about the Helsinki principles. Russia does not believe that the presence of any council in Europe is a value. Russia does not respect the Red Cross and will not listen only because some organization has been working for more than a hundred years," the President of Ukraine emphasized.
We will remind, on November 23, the European Parliament adopted a resolution by a majority of votes, in which Russia has been declared a state sponsor of terrorism because of the full-scale war and war crimes in Ukraine.
Zelensky congratulated this decision and stated that Russia must be isolated at all levels and brought to justice in order to end its long-standing policy of terrorism in Ukraine and the world.
Now Ukraine expects that The USA recognizes Russia as a state sponsor of terrorismsaid Chairman of the Verkhovna Rada Ruslan Stefanchuk.
Read also: